The Authority owns and operates the Susquehanna Water Pollution Control Facility. The facility has a design capacity of treating 15 million gallons of wastewater per day. The facility utilizes preliminary, primary, and secondary treatment processes to achieve compliance with its National Pollution Discharge Elimination System (NPDES) Permit. Preliminary treatment mechanically removes debris such as rags and grit that may be harmful to downstream equipment. Primary treatment is designed to remove settable and floatable solids. Secondary treatment utilizes a combination of chemical and biological processes to reduce any remaining constituents to a level that is set by the NPDES Permit. All materials removed from the wastewater, called biosolids, are treated and disposed of utilizing environmentally sound and approved methods.
The responsibilities of this department include operation and general maintenance of the treatment facility and grounds, laboratory testing, industrial pretreatment, and trucked waste management. Facility staffing currently includes two managers, six certified operators and three operators in training. Laboratory, Pretreatment and Trucked Waste staffing includes one manager and two laboratory technicians. These staff members work to protect and improve the surrounding environment and the quality of the downstream water utilized for consumption and recreation.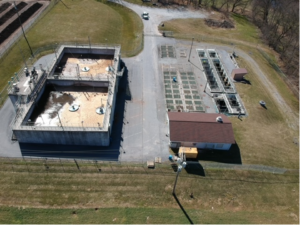 The Authority also owns the Brownstown Wastewater Treatment Plant, which serves portions of West Earl Township. The Brownstown WWTP has a design capacity of 545,000 gallons per day and utilizes a Sequencing Batch Reactor process to treat
 sewage to the requirements of its NPDES permit. In a SBR system, all treatment processes occur within the same tank, reducing the space needed and simplifying maintenance.